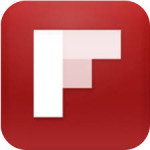 If you are a Google Plus user and a Flipboard user you will be delighted to find out that you can flip Google Plus posts.
As you may (or may not) know, every post on Google Plus gets a static URL. Flipboard also supports animated GIF images. This means if you flip a Google Plus post of an animated image you will see the GIF animation in your magazine. How cool is that?! A magazine with GIF animations!
I recently started using Flipboard and made a Google Plus board, check it out!
View my Flipboard Magazine.
Do you use Flipboard?
Article by: