As I have stated many times, Google Plus is amazing for business. If you are willing to put in the time and effort to understand the platform you can reap great rewards when it comes to expanding reach while also getting some SEO benefits. David Azizi, a Los Angeles motorcycle accident lawyer, has done just that. In less than a year, this Los Angeles based lawyer has built has law firm's Google Plus following from zero to over 800. What is interesting is that his page has offered unique ways to illustrate his areas of practice.
How Personal Injury Lawyer David Azizi Has Increased Reach
Using Google Plus with Other Social Networks
Google Plus is Great for Gifs
When it comes to personal injury law the majority of Internet users think about car accidents and trip and fall injuries. It is not difficult to find gifs of drivers that are not proceeding in a safe manner. The Law Offices of David Azizi Google Plus My Business page has shared some very interesting types of car accidents over the past few months. These accidents range from bicycles entering oncoming traffic to high speed vehicles trying to weave in and out of traffic jams. This type of content catches the eye of a Google Plus user because gifs are autoplay in the stream.
It is not surprising to me that some of the most popular shares on Google Plus are gifs. Some of the gurus and experts may not realize that the common Google Plus and social media user is not looking to engage in a two hour conversation about how Google is adjusting search. In fact, they really don't care. What they care about is getting a good laugh and enjoying their time on Twitter, Facebook, Google Plus, Instagram or any type of social media outlet.
How Personal Injury Lawyer David Azizi Has Increased Reach
A very smart move by David Azizi was to utilize the free Google Hangouts on Air feature of Google Plus. He has answered questions and explained unique personal injury law situations through the hangouts which are converted to YouTube videos. Each of these hangouts is another branding opportunity for the Law Offices of David Azizi.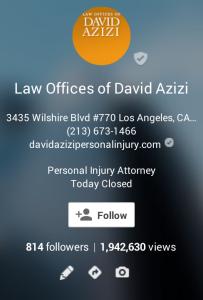 Those that are seeking a lawyer or attorney through an online search would like to know they will be working with someone that is trustworthy. One of the first steps to building trust is using the face of the law firm or business. It is not difficult to find David Azizi online as he has been on hundreds of Google Hangouts and his website offers some information on his areas of practice and the cases he has won.
Using Google Plus with Other Social Networks
While Google Plus has been great for the Law Offices of David Azizi it is always a wise choice to explore all options when it comes to audiences online. As much as I would like to say that everyone is on Google Plus that is simply not the case. In fact, if you asked 20 people if they have an active Google Plus account it is highly likely that 18 would say no. That does not mean it does not have value, but there are other avenues to reach an audience.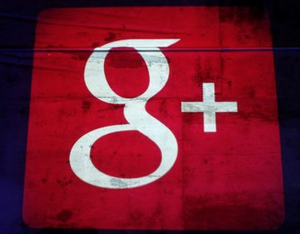 One of these avenues is Flipboard. Flipboard allows users to create their own online magazine for free. Here is an example of a Personal Injury Law Flipboard. Once again, this is a social network that autoplays gifs to attract the attention of the user. Personally, I love the fluidity and ease of Flipboard. In the next few months I think that Flipboard has a chance to really become a player when it comes to online sharing. Why not share your favorite sports photos in a Flipboard magazine? Why not share the hottest new cars hitting the road? All of these options are available at no cost.
The Value of Google Products
One of the greatest things about Google Plus is that it encompasses all Google products. Google Drive, Blogger, Android, YouTube, Google Search and GMail are all baked into Google Plus. This means if you have a Google Plus account you will have access to all of these wonderful resources. There is no reason to pass up an opportunity to use these resources to help reach a broader audience. You will also receive natural links which is exactly what Google is looking for when it comes to ranking websites in search. When trying to rank for "car accident lawyer" keywords I strongly suggest using as many different Google products that you can find.
By taking the time to scour Google Plus you will find it has plenty to offer. Do not think of Google Plus as a second coming of Facebook. In fact, there is a good chance you will not want to engage with anyone on the platform on a personal level. What you can do is broadcast your content or services for the world to see. If they are truly interested in what you have to offer they can email, call or stop by your business location. Ultimately, I feel as if social media will become customer service for large businesses and brands. Do not feel as if you have to spend 20 hours a week on social media "engaging" with your audience to get quite a bit out of each respective platform. If you would like to know more about the different social media platforms please feel free to reach out to me at jwojdylo@gmail.com.
Note that Google My Business accounts in the legal industry are not only the personal injury vertical. Criminal defense attorneys can benefit from an expanding Google presence with products like YouTube, Google My Business and Google Maps.